NAPO Members
Create more business using FOUND

io

and the #NAPOconnect campaign!
When's the last time you had a
good
reason to reach out and CONNECT with all of your former organizing clients?
Wouldn't it be nice to have an interesting way to CONNECT and
start conversations
about your organizing business while out running errands?
Imagine this scenario....
You are standing in line at Staples buying supplies.
You have your phone out and the lady in front of you is looking at her phone as well.
You say "Excuse me," and show her the back of your phone while asking "Have you ever heard of this free service?"
"No," she replies.
"I'll tell you what, here's a free label - just go to the FOUNDio web site and create a Tag ID and you'll protect your phone from loss. The service is free. If you have any issues, just contact me at the address on the bottom of the label and I'll be glad to help. Once again, this is a free service I like to tell my friends about."
You've just made a new friend and potential future customer!
The #NAPOconnect Campaign
For members of the National Association of Professional Organizers (NAPO)*, recommending FOUND
io
is great way to reconnect with
former clients
as a friendly reminder of your organizing service. All you need are some labels with your company listed as the sponsor. Use the BLANK labels below to
drum up new business
while standing in line at the grocery or office supply store. Use double-sided tape and affix a label to the back of your business cards. It's free advertising that people will constantly be viewing! There are two ways to get started.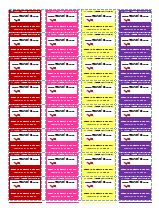 Option 1 - Print your own custom labels
You can create your own "SPONSORED BY" labels to generate new business. Use the following MS-Word template to create custom labels that highlight your organizing business as the sponsor. The service is always free for everyone so it is a great way to help your clients and promote your business.
Resource Description
Link to MS-Word Document
Create medium blank SPONSORSHIP labels (no Tag ID)
32 Labels Per Page (medium)
Source: Avery #6791 Inkjet 1.25H x 1.75L
MEDIUM BLANK (Red, Pink, Yellow, Purple)
Option 2 - Get Complimentary labels
We offer a special service for National Association of Professional Organizers (NAPO) members. You can request complimentary sheets of pre-printed labels (both tagged and BLANK). It's a great way to reconnect with past clients for free. We'll even include a "Sponsored by SPONSOR-NAME" line at the bottom so they will be reminded of you everytime they look at their phone.
Just send us a quick email
with your Tag ID, phone number, mailing address and instructions on what you would like and we'll send your complimentary labels right away (only valid in the USA).